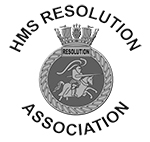 Welfare Services
As an experienced Volunteer Welfare Caseworker with SSAFA Forces Help, I can promise you that your needs will be treated the following way:-
Fully Confidential
This can be ensured via private message on the Association website or via personal email to welfare@hmsresolution.org.uk. All discussions/emails will remain confidential unless disclosure is permitted by the client.
Non Judgemental
In keeping with the ethos of welfare provision throughout the veterans' sector we do not judge you on the basis of the client's issues.
Put the Client's Interests First
I will listen carefully, ask questions to check my understanding of the problems, and discuss with the client any possible options that may be suitable.
I will, also, signpost the client to other agencies who may be better placed to assist, eg: The Royal British Legion, Combat Stress, SSAFA, etc.
The Association does have a modest Welfare Fund, and any case that may be suitable will be brought to the attention of the Committee for discussion as to suitability. The committee are fully aware that any Welfare discussions remain confidential.
Taff Kaupa
Welfare Representative
HMS Resolution Association